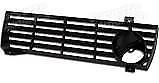 Product Description:
1968 - 1969 Corvette Grill Left Hand Corvette America Part #X2462
*** NOTE: We have the Right Hand side as well Part # X2463 listed in a separate auction. ***
Not the part you need? - Let me know, we have a big warehouse full of good parts. Used - Original - New -Reproduction - Message me for availability!
About SoCalVETTES: 
We have been involved with the Corvette community for over 30 years. We have accumulated tens of thousands of good quality used (C3 & C4) 1968 to 1996 parts.
We have recently relocated to a 10,000 SQ FT warehouse located in El Cajon.
Local Corvette enthusiasts, you're more than welcome to stop by the shop and check out our massive inventory!
"Our ultimate goal at SoCalVETTES is to offer outstanding customer service, quality, new and used Corvette parts to all customers, including our very own U.S. Military Veterans and active duty. As a retired Navy Veteran of 30 years, and after countless years of owning these amazing cars as a hobby, I was having difficulty finding good used parts. I then decided a hobby was not enough, that's when I decided to start a business that would help support the Corvette community."
– VettSteve (C.E.O)
Hours of Operation:
Monday - Friday: 9:00 AM to 5:00 PM Pacific Standard Time
Saturday: By Appointment Only - Please Call
Sunday: CLOSED
Shop/ Office: 619-670-7878
Payment Information: 
We accept all major Credit Cards or PayPal.
Add Additional Items: 
You may also continue purchasing additional items from our auctions or eBay store. You have 1 day from the end of the first purchase to add additional items to your order.
Sales Tax: For shipments in CALIFORNIA, we are required by State law to collect 8.25% Sales Tax.
Shipping Information:
International customers, please contact us for shipping quote before purchasing.

International customers are responsible for any additional charges - such as customs, duties & tax responsibilities.

Please allow 5 - 10 days to receive your order (continental U.S.)

Insurance always included.

Returns varied by product. Please see in product description.

Smaller items ship via FedEx, USPS, and UPS. If you would like to ship though your account, please provide account info.

Larger items usually require freight companies including, but not limited to DHE. If you would like to ship though your account, please provide account info.

For products damaged during shipments, please give us 7 - 10 business days to file a claim and get your replacement sent to you.